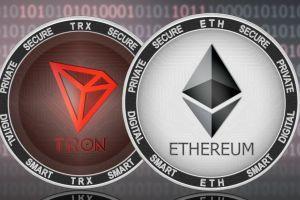 The total transaction volume of Tron dapps during 2020 Q1 was USD 415 million, down 74%.
The Q1 total transaction volume of EOS dapps was USD 1.75 billion, down 12%.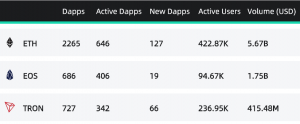 Decentralized finance (DeFi) projects lead Ethereum's growth with the largest transaction volume. That said, the total transaction volume of Ethereum dapps in the first quarter of 2019 was USD 743 million, while in the first quarter of 2020 it was USD 5.64 billion - an increase of 659%.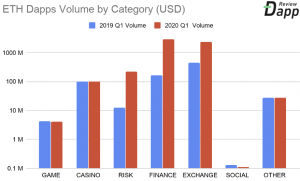 Furthermore, Ethereum enjoyed a diverse dapp ecosystem and steady performance compared to the other blockchains in the first quarter of this year. While dapps in categories like Game, Casino, and Other maintained Q1 2019 levels, Finance and Exchange dapps (together commonly called the DeFi sector) "have gained huge growth over the last 3 months." More specifically, Finance dapps (including lending and derivatives projects) saw a 1,743% in transaction volume, reaching USD 2.95 billion. Exchange dapps (decentralized exchanges) had an increase of 430%, going up to USD 2.34 billion.
Still, the active dapps on Ethereum in Q1 of 2020 are 173 fewer in number than in Q1 of 2019 - standing at 641. Finance is the only category to have seen an increase, specifically of 18, reaching 33 dapps in total. Exchange dapps remained unchanged at 72; the most active category, Game dapps, had 42 less, being down to 180; and Casino dapps dropped by 50% to 71 active dapps.
Meanwhile, in the first quarter of this year, the total number of Ethereum active addresses is 422,871. However, 243,252, or 52.29%, of these are Risk dapps (i.e. Ponzi Scheme) users. The report also found that a total of 31,299 addresses interacted with Financial dapps, which is an increase of 234.86%. There's good news for Casino dapps too as, though they saw barely any increase in transaction volume, they still had the number of active addresses increase by 39.88%.
Also, Ethereum had an increase of 55.86% in the average Daily Active Addresses (DAA) in the first quarter of this year, going up to 16,763. Finance dapps and Risk dapps stand behind this growth. Therefore, if Risk dapps are excluded, the average DAA is 12,505, with a 23.55% growth.
Ethereum Beat Tron and EOS in Dapp Category in Q1
Reviewed by
www
on
avril 25, 2020
Rating: